By Tim Parmeter on June 06, 2018
Corporate employees are encouraged to take care of their personal well-being to ensure they're healthy and happy in the workplace, and a big part of that is having a good work-life balance. Businesses are also encouraging their employees to take time off, use vacation days, and digitally disconnect when leaving the office.

But what does that mean for a franchise owner, and what does that look like? After all, owning a small business is usually a full-time job. As an owner you need to know what is going on at all times, so is it even possible for you to have "work-life" balance?

While you may think you need to have all hands on deck at all times, there are some tips you can use to help free up some time for yourself. Here are some ways to run your business and life in a healthy way.


Work Life Balance as a Business Owner
Many business owners have a hard time delegating tasks to their employees. Even when the franchise business plan tells them when and how, it's not always an easy thing to let go. An owner may feel the business is their lifeline, and the fear of letting go of some of that responsibility can somehow put the business at risk. That's not always the case. In fact, there are some tasks you can delegate to employees (if you have them) to help lessen your burden. If you don't have any employees, consider contracting out some of the work to make sure it is getting done.

Here are a few examples of tasks that can be delegated to others:


Social Media
We live in a predominately digital world, and social media has become an increasingly effective platform for businesses. It's how many people get our information, whether it's general or specific. Social media is a great way for businesses to communicate with their audience.`. However, creating a social media strategy to gain customers as well as creating an audience is time consuming. If you are a business owner that does not come from the marketing field, odds are you lack the experience in this area anyway. Hire a professional who can help your business master social media.


Bookkeeping
Keeping track of your business finances is incredibly important and absolutely necessary. Finding a professional bookkeeper to ensure they're in order will no doubt be a huge help. Often times, . This is an important area of your business and your involvement is absolutely necessary. However, finding someone that you can have a professional relationship to help you keep your business finances in order would be a huge help. This will alleviate the stresses of trying to keep track of your business expenses, balancing the books, and still run the business all at the same time.


Management/Customer Support
A manager to run the day-to-day activities and tasks can be a Godsend, and this is the ultimate way of delegating much of your business' tasks. When done right, the manager is acting as an extension of the owner and essentially helping to grow the business. Therefore, it's vital to properly train the manager for quality management and leadership.

Some managers help arrange the factors of production, assemble and organize resources, and integrate those resources in effective ways in order to achieve your business goals. Others play a pivotal role in customer service, effectively handling customer support and relations.


Dedication When Working from Home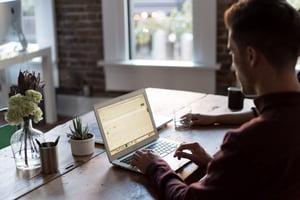 Having an office away from the physical location of your business can obviously decrease the amount of time you spend away from home. However, it takes a lot of motivation, focus, and determination to work in this environment. There's no need to wake up and spend 8 hours in your pajamas. Get dressed! Stay productive, and be focused.

To avoid distractions, it's important to set boundaries so you don't get sucked into a black hole. Here are some tips for staying productive when working from home:


Install a browser extension that keeps you off of distracting websites. LeechBlock for Firefox is a great tool that allows you to set your work hours for the day.
Be mentally out of the house even if you can't physically be out of it. Don't answer the phone or the door for the delivery man. Even go so far as posting your office hours on your home office door.
Work in distraction free blocks of time. With your daily checklist in hand, give yourself a solid chunk of time to work on each particular point. It's important not to interrupt yourself with emails or Facebook notifications because each distraction saps your time and productive momentum.
Personal Wellness for You and Your Staff
It's important for an owner to model good habits in front of employees. Respecting the team's needs for personal time will help create a healthy and desirable working environment. Encourage employees to take time off, not stay past working hours, and to take breaks throughout the day.

As a business owner, it's important to take the same measures. Have a set routine and work schedule, and be sure to disconnect yourself from work at the end of the day, spend time with family and friends, and cultivate hobbies outside of your work life.

Being a business owner is hard work and can be stressful, but it should also be fun. Creating a positive work-life balance for you as an owner, and for your team, will lead to an even more profitable business.


Do You Want To Own Your Own Franchise?
If this style of work-life balance sounds right up your alley and you want to get started owning your own business, chat with the franchise experts at FranCoach. We're ready to help you through the process of finding the perfect franchise for you and your goals/dreams.