By Tim Parmeter on June 04, 2019
The Answer to Creating a Secondary Income Stream and the Exit Strategy from the Corporate World
Have you always wanted to own a business but felt the relative safety of a corporate salary is just too good to give up? Perhaps it is time to join the rapidly growing number of people who are tapping into the side gig economy.
Franchise ownership is, at times, referred to as a way to "buy a job". While there are people and franchises that fit this category, the vast majority of franchisors are looking for something very different. Franchisors are looking for the more common type of franchise owner role known as an "executive model". An executive model is designed for a higher-level professional looking to run and grow a big business.

One step further from the executive model is the a "semi-absentee" franchise owner. The semi-absentee owner model can be an ideal fit for the professional looking for either the "side gig" and/or an exit strategy from the corporate world.
4 Things to Consider About a Semi-Absentee Franchise Model.


1. How does a semi-absentee model work?
A semi-absentee owner typically spends about 10-15 hours a week working on their franchise. The semi-absentee owner's main role is managing a manager(s) who runs the day-to-day operations of the franchise. While the owner does not need to physically be at their franchise location for the full 10-15 hours, they may be on-site more often at the beginning to ensure a proper foundation has been laid for a smooth operation. The owner also will keep a pulse on the financials and the overall operations remotely. Franchisors with a semi-absentee model tend to have a stronger internal platform so their owners can be updated as close to real-time as possible.


2. What makes a great semi-absentee owner?
First and foremost, it takes great leadership skills - typically, someone with extensive experience leading other leaders. This is a perfect fit for individuals with a higher level corporate experience, such as department heads, directors, VPs, and C-suite executives - all of whom are considered naturals for a semi-absentee model.
Secondly, as with any franchise owner role, the ability to implement a proven plan is crucial. Finally, the ability to properly delegate. If a person feels the need to be involved in every aspect of a business, then a semi-absentee model not be right for them.

3. Is a semi-absentee role right for you?
The first part to answering this question is outlined above. Does your skill set and personality meet what is needed to be a great semi-absentee owner? If so, then the next step is to consider the following:
Do you have a full-time job that you are not yet ready to walk away from?
Do you already own businesses that you're not yet ready to sell?
Is creating a secondary stream of income important to you?
Would it be great to have an exit strategy from the corporate world?
Have you always dreamt about owning a business?
If the answer to these questions is "yes", then a semi-absentee model may be the perfect fit for you.


4. How does the side gig become the full-time gig?
First off, it is important to note that the semi-absentee franchise does not have to ultimately become full time. For most however, it eventually does. When the role does become full-time it usually does not change that much.
The owner still manages the managers who run the day-to-day operations. By this point, there are typically several managers and/or locations of the business which will require more time of the owner, though the time spent as an owner is usually less than they were working in the corporate world.

Exit Strategy Timeline
The timeline for an exit strategy can be vastly different for each owner. The differences can be based on the amount of income one needs to replace in order to exit the corporate world, their lifestyle considerations, and long-term goals for scaling the franchise. Below is an example of what that timeline might look like.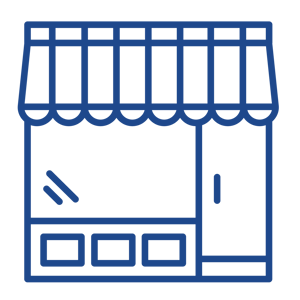 1 unit/location: This will create a small supplemental income stream, but it may not be enough to completely step away from the full-time job.

2 units/locations: A more significant income is rolling in, and wealth and equity are being built, but for some, it still may not be enough income to completely replace a corporate salary.
3 units/locations: The corporate salary can now be replaced with the income generated from the franchise. Wealth and equity continue to grow at a much steadier pace with the business.
4+ units/locations: A real empire is being built. Much of the cost to expand the franchise further is paid for by the revenue from the existing units, which will greatly reduce, if not eliminate, any debt services. The potential to bring in other family members into the business, especially grown children, can be a huge added bonus.
Alternatively
Start unit number one of a second franchise. This is often referred to as the Portfolio Method of scaling as you are now managing your various franchises. In many ways, this starts the side-gig cycle all over again.
The semi-absentee owner role with multi-unit, or multi-brand, scalability is not for everyone. It is, however, the best way to truly control your earning potential and lifestyle while building wealth and equity in your franchises that can eventually either be sold or passed on to a family member.
Ready to learn more about how you can find your own side gig? Schedule a call with one of our franchise experts. There is never any fee for our service so click now to create your better tomorrow.